As 2011 approaches, I feel it's quite fitting to make a list or two. This is my first. Remember, this is obviously opinion, if you disagree, well, feel free to make your own list. :)
10: Alcest - Écailles de lune
This would be higher in the list if it wasn't for the second half of the album, because the first half is the best material Alcest has ever written. Écailles de lune parts 1 and 2 would have made an amazing EP, maybe with the third track thrown in too. Really though, the first half alone makes this absolutely fantastic.
9. Les Discrets - Septembre Et Ses Dernières Pensées
Known as the brother album to Écailles de lune, this was a much darker and more consistent release all around - hence I prefer it. The hypnotic as hell vocals, the beautiful guitars... Really looking forward to hearing more Les Discrets. Can't wait for their next album.

8. God Is An Astronaut - Age Of The Fifth Sun
Though far from their best, Age of the Fifth Sun proves to be a competent album full of some of their best work. I would probably say it's their most consistent effort yet, and it's their first album I've listened to where some of the songs don't bore me or don't go down well with me - which is why it gets a place in this list. It's a shame that the great moments here aren't quite as great as their old stuff, though. But hell, a great effort.
7. Swans - My Father Will Guide Me Up A Rope To The Sky
I don't think anything really needs to be said. Swans returned and brought back a brilliant album, full of brooding and frightening pieces that I enjoy whole-heartedly. I like to think it's their most cohesive effort yet, all the tracks working wonderfully together and well organized - and to my pleasant surprise, Gira still has it.
6. Year Of No Light - Ausserwelt
Though I wasn't keen on their debut, the dark brooding mix of post-metal and doom here is irresistible - 4 tracks that crush you whilst at the same time whisking you away to god knows where, a really enjoyable listen and definitely my favorite from this band without a doubt.


5. Amia Venera Landscape - The Long Procession
This one really, really surprised me. Well, it shouldn't have, since their debut EP in 2008 was absolutely fantastic - this follows in the same footsteps in both quality and aesthetic, but amplifies everything that is brilliant about this. The raw energy, the amazing atmospheres and the aural assault that is this post-hardcore/sludge monster. What a record.
4. A Forest of Stars - Opportunistic Thieves of Spring
This album is a beast. It's massive, flows wonderfully and most of all the songwriting here is superior to their older stuff (though some disagree, which is coo'). The orchestration used here really lifts this album above the rest of progressive black metal bands, and it's a shame this isn't better known and appreciated.
3. Rosetta - A Determinism of Morality
I didn't think I'd ever prefer a Rosetta album with the heaviness tuned out somewhat, but here it works beautifully. Imagine 7 massive monster tracks like on Wake/Lift but condensed, and that's what you have here. A wonderfully refreshing change from Rosetta, and probably their strongest album yet. It's nice that they've found a niche of their own.
2. Anathema - We're Here Because We're Here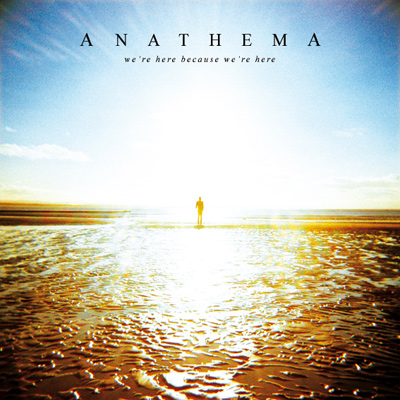 How Anathema came back and blew us all away with this one is something I'll be wondering for quite a while. It makes a bunch of their previous albums look like a joke. The mood here is more positive, but it still has the beauty of all the previous Anathema albums before it - but this time with consistency, the album flowing much better than their previous albums making it sound like a cohesive and complete album from start to finish. The best of their career.
ALBUM OF THE YEAR
Agalloch - Marrow of the Spirit
Agalloch really perfected their formula in this one by amplifying all of their good aspects and adding new ones at the same time. The post-rock has broadened (with some songs even sounding like Godspeed You! Black Emperor), the black metal has become more prominent, the album has diversity which flows and fits together beautifully from the jarring Into The Painted Grey to the calm, post-rock sounding outro To Drown. Everything here is absolutely perfect and Agalloch have made the best album of their career, despite already making 3 masterpieces prior to this one. They could be the best band in the world.